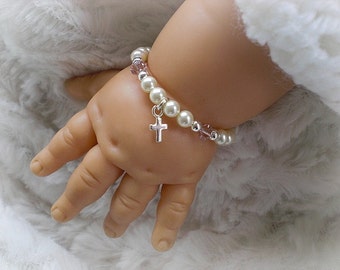 Deciding to give jewelry as a baby shower item can be tricky. If you know the mother well and  she loves jewelry it is a great choice. If you can ask the baby's mom, or a close relative, if she plans to get the baby's ears pierced, earrings are a fabulous gift that the child can wear all the way through adulthood.
Lasting Symbols of Joy for the New Baby
Baby jewelry can become a treasured family heirloom. Give the gift of beauty that will last a lifetime by wrapping up a baby-sized bracelet, ring or necklace for the shower. Adding charms can make the gift even more symbolic. Typical baby charms include:
Crosses
Hearts
Engraved initials or nameplates
Bangles
Artistic symbolism such as the mother's embrace
Baby feet or a locket with an embedded birthstone
Knowing the New Baby's Sex can Help Guide a Decision
Jewelry makes a great choice for either a baby boy or girl. However, certain types of jewelry are more common for boys than others. You can get away with just about any of the choices for a girl, although cute or bedazzled types are popular. For boys, a simple name plate, charm bracelet with the letters of his name or a necklace with a "dog tag" style pendant make for a great choice. Guitar pick shaped pendants are another trendy choice for boys.
Who says all shower gifts have to be solely for the baby?
Mom put in all the heavy lifting for nine months. Giving her a unique baby shower gift of jewelry to commemorate the blessed event is a great idea. When considering a piece to give her there are several options.
Get a piece of jewelry made from the birthstone of the month the baby is due
Find a piece of jewelry that signifies birth
Give the mother a ring or necklace with a motherhood symbol like the Celtic Motherhood Knot
Pick out some pearl earrings. Pearls never go out of style
Give mom a charm bracelet with the new baby's name in block letters
Suggestions for Picking the Right Baby Shower Jewelry
Make sure you choose jewelry made from the best metals. This is especially important if it will be worn by the infant. However, it's a good idea even when buying a gift for the mother. No one has good memories of their fingers turning green.
Make sure the jewelry you purchase for an infant or young child won't come apart and become a choking hazard. If you find a piece that is particularly beautiful, but delicate, you can give it to the new baby in a special keepsake container, so they can wear it when they get old enough to be safe with it.
Chain Length
Chains for necklaces come in standard lengths from 16 inches to 30 inches. Most adult sized chains are too long for a baby. If in doubt, simply purchase the charm or tag and let the baby's parents get a properly sized chain for a baby necklace.
Shopping for baby jewelry is not only fun, it's practical. Most gifts are used up within a year or two as the baby grows up. Fine jewelry will be a gift they can treasure and look at to remember you throughout their life. If you are unsure if jewelry would be an appropriate gift then you may want to stick with more traditional baby shower gifts such as pregnancy pajamas, nursing tops, hospital gear, nursing bras, baby blankets, diapers and stuff like that.